Total Revenue management is becoming an extremely important part of hotel management in recent times – and that too for good reason. Incorporating revenue management in your strategy ensures that you will be able to leverage the maximum number of components of the entire customer journey to improve sales figures. The entire operation of a business is taken into account for a total revenue management system regardless of the industry that the said business is based in.
Needless to say, it is practically impossible to make the most of a revenue management system without the right technologies by your side. Below, we're talking all about how technology is incorporated in a total revenue management system and why it's so important for successful implementation and execution of the system.
As important as total revenue management process may be for your hotel business, the fact of the matter is that incorporating and implementing the right strategies won't quite be as effective unless you know how to use and leverage the technologies associated with it. Additionally, having access to the technologies that are affiliated with creating a total revenue management approach but not knowing how exactly they can be leveraged to your advantage, too, is problematic.
Like all businesses, hotels, too, are constantly generating data – important data that can be leveraged to not only improve the customer experience, but also bring about a significant impact in the revenue of the business. Whether or not your hotel has the resources of a five star international chain, it is essential for you to start using the latest technologies to make the most of your total revenue management system. Using the latest software and systems will allow you to collect important and high quality data in a timely manner, and enable you to use this data to your advantage before it becomes obsolete.
Using the right technologies will also allow you to make informed and data driven decisions that will prove to be beneficial for your hotel business instead of making decisions on a whim that may or may not be in the best interest of your business. Equipping your operations with the right technologies will also reduce the possibility of errors since all of the decisions that you make for your business will be based on insights of previous experiences instead of being based on what you feel or results that you expect without any real basis.
Since you will be able to gain a lot of useful information by using the right technologies with a total revenue management system for your business, it will also be far more easy and convenient for you to optimize different components of the buying process. The latest technology for a total revenue management system for your hotel business will also help you analyze the market and view booking patterns in order to leverage different factors, operations and activities in order for you to make the most of your hotel business.
Which Type of Technology Should You Use for Your Hotel Business?
To facilitate the above a seamless system that enables cross-departmental sharing of data will be a key element. While the benefits of technology are undeniable, the variety of systems used in different departments may present a challenge for implementing a TRM process. System integration is required to ensure that cross departmental data processing necessities are met and total spend can be accurately mapped. A seamless system will ensure constant communication between all outlets and provide with accurate, timely and complete information for successful optimisation while enabling and supporting better management forecasts. Some of the internal systems in hotel today include: Property Management System, Revenue Management system, Customer Relationship Management, Sales and Catering systems etc., while some of the external sources of data include: STR data, Social media, Rate shopping, Reputation management system etc.
A seamless flow of information will enable hotel operations to streamline their efforts leading to enhanced guest experience and business performance. A well-constructed and integrated system will allow reaping the benefits of gathering and optimizing the continuous flow of information, produced by all different departments. It will act as a central hub for storing and processing real time and past data. Key benefits of an integrated network of systems are:
Creation of a central database. Data produced in different departments and outlets can be stored in a central pool of data. This will enable hotels to effectively combine and analyse information. Data quality is of outmost importance as the quality of decision making will be as good the information it is based on. It is therefore imperative to have enough controls and checks in place to guarantee data quality and integrity
Understanding of customer behaviour. Data gathered and analysed from all different sources will enable hotel operations to better understand their customer behaviour and offer enhanced guest experience by providing personlised service. It will also permit them to predict trends in spending patterns and improve guest experience by better designing products and services
Streamline internal processes. A total revenue management culture will eliminate departmental silos and lead to improved internal communication and sharing of information. Furthermore, it will create improve efficiency in the daily operational tasks which in return will reduce operational costs
Improve business intelligence and decision making. Combining data from different sources will provide with a holistic view of the business and how it performs. Better business intelligence will advance commercial performance through enhanced information-based strategic decision making. This will not only benefit your Revenue management strategies but also your operations by providing insights on booking patterns, product and services utilization, markets & customers to target etc.
Competitive advantage. Seamless technology will not only help improve business performance but it will provide a competitive advantage by creating a seamless guest experience. Better understanding of customer wants and needs will pave the way to offering personilased service. Finally, this will lead to increased loyalty and customer retention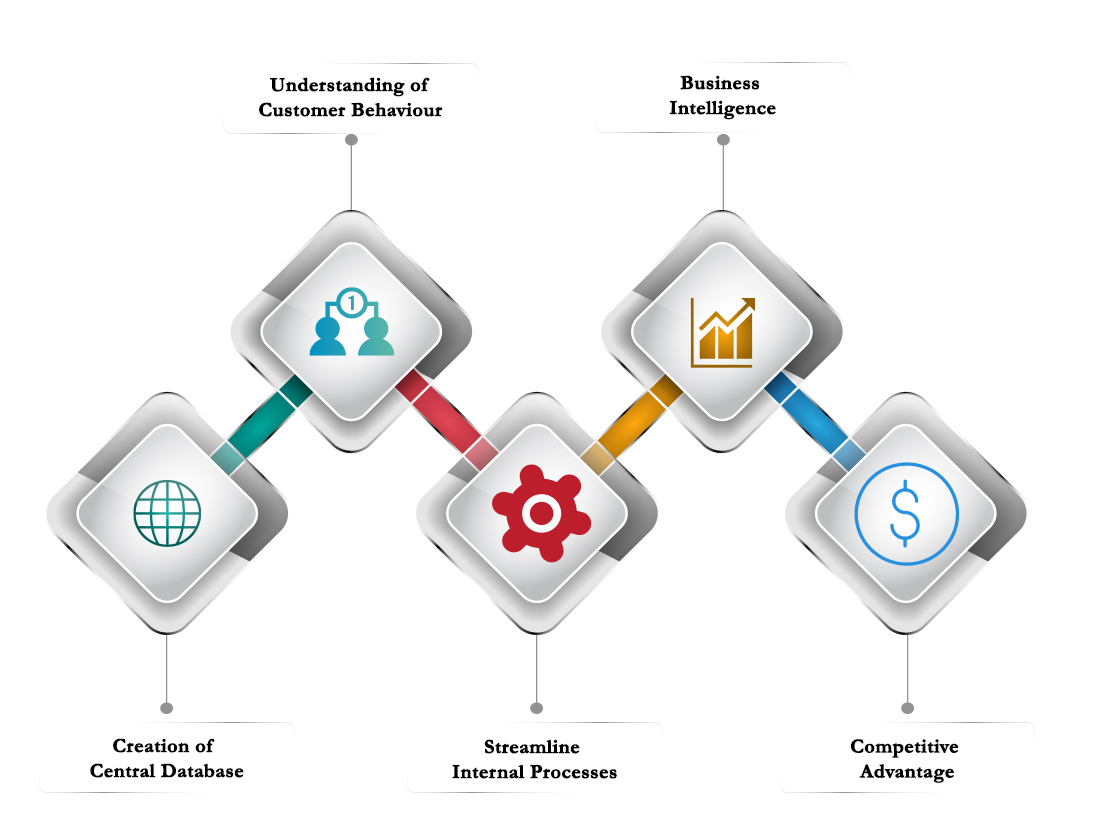 When it comes to designing a total revenue management process, one of the most common problems that people face is that they are uncertain about the type of technology that they should opt for. Contrary to popular belief, relying on a generic technology or revenue management system won't do much well just like the same strategy won't offer the same results for every type of hotel business. In other words, the cookie cutter approach isn't of much use when it comes to selecting the right technology or revenue management system for your hotel.
Small hotel businesses will obviously need technologies and systems that are different from those that are needed or required by international chains of hotels. A small-scale hotel business will, therefore, need only a few technologies in addition to a dashboard that helps them keep track of basic information and manage inventories. This is particularly important because small hotels often face problems of overselling because of minor human errors or manual entry of data.  Automating the system will help you better understand the areas where your hotel business was suffering due to easily avoidable problems and mistakes and with the right insights and data to back your decisions, you'll be able to take well informed and calculated steps to rise to success one booking at a time.
The needs and requirements of a more established and recognized hotel business will be different than those of a hotel brand that only has a single franchise or two. Seamless technology becomes a necessity more than a privilege in cases like these. It is important for a mid-scale hotel business to have a proper reporting system; it is also essential for a hotel business like that to tweak their revenue model at regular intervals, based on the data that is being collected to ensure that the revenue management system is always up-to-date, leverages data, analytics, and insights for all the right reasons.
With access to the right systems and technologies, mid and high level hotel businesses will also be able to apply forecasting which can provide in-depth information about the market and what needs to be done to succeed. Hotel businesses that are competitive will also be able to leverage big data with the help of the latest technologies that will allow them to understand the needs and requirements of customers in a more personalized manner, allowing them to optimize the customer journey and buyer's process in a way that will be guaranteed to drive conversions and improve revenue figures.
Some of the factors to consider when deciding on any system are: technology and data integration, cloud hosting, mobile access, flexibility and customisation & user experience.
While technology is important for the successful implementation of a total revenue management system for a hotel business, it is essential for people to understand the type and nature of technologies that they can leverage to maximize improvements and an increase in the overall revenue of the business. This is exactly why research about the different options available is crucial and must be done thoroughly to ensure that you're making the right choices that will prove to be beneficial in the long run.